My children think that I trust them. Snoopza Android keylogger is perfect for home and business. It can be useful for employee and parental control. To install, enter your email address and set a new password. You will log into your account and be able to download installation files for the target device.
It allows you to stay hidden in stealth mode. The only way to set up monitoring is to have physical access to that Android device — phone or tablet. Any other way of monitoring you might have heard of is a scam. What is a phone tracker? You can download the free phone tracker Snoopza and get a modern and useful tool.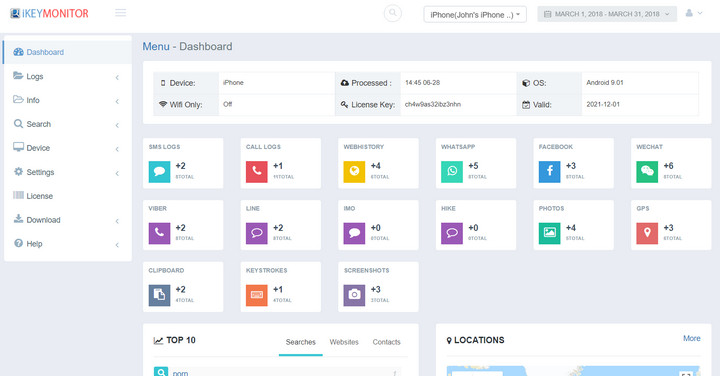 A free GPS phone tracker such as Snoopza has a lot of important functions, but at the same time it is easy to use. Snoopza is a clever location app. Using this tool, you will be able to record:. The application is developed not only for mapping the current location or history, but also for spying on chats, calls and so on.
10 Best Apps to Intercept Text Messages without Target Phone for Free — urdesignmag
For example, you can spy on Viber or even distantly take screenshots. Snoopza is more than just a free online phone tracker app. There are thousands of satisfied customers. Would you like to be one of them? Everything is simple and clear. This tool will open a new world for you. Here are three reasons to choose Snoopza:.
What is WebWatcher
It remains invisible, so you can become a real spy. The geolocation feature location of the device is helpful, too. The application is used to determine the location of the target device — phone or tablet. This is possible due to Wi-Fi signals, as well as cell towers. If you lose your device, you can see on the map where it is. Snoopza has one more important feature.
This cell phone locator app works even when a person changes the SIM card. So, replacement of the SIM card is not a problem; you will still be able to find your device.
Free mobile tracker
As you see, this tool can be helpful in any situation. You can also look at the history. It has a simple interface that allows you to use it without special knowledge. However, for those who are curious about the process, following is the exact description. Your web account will be available from any laptop, tablet or computer connected to the Internet. Free mobile tracking is so easy with Snoopza. It will take less than three minutes.
Using this app can improve your business. Just share your workers' location with customers. They will be able to see when the delivery man or another worker arrives at their house. Moreover, you will also know where your workers spend their work time. This is just a few examples of how the free phone tracker for Android can be helpful. You can come up with your own way of using this phone tracker. To find the location of any Android device, just choose this useful and free app. Your Email Please enter a valid email address.
⚡ Do you need physical access to the phone?
Create a Password Your password must be at least 6 characters. Sign Up How can you monitor cell phones using the cell phone tracker? Log In Log in to your online account to track the phone location, calls, messages, SMS, web history, screenshots and so on. Choose an app like Snoopza! Track Calls The cell phone tracker saves the conversation, as well as the exact times and dates of outgoing, incoming and missed calls.
Record Calls You can record the audio of any call or voice message using the application. WhatsApp Spy The application records all activity in WhatsApp: sent and received messages, audio and video. Screenshots This program is designed to create Android screenshots. Check Contacts If you want to save all the contacts, this cell phone tracking software can do it for you. Track To-Do List The free Android tracker saves the to-do lists and notes a user makes in the calendar.
People get used to make notes in their calendars making plans. And the tracking software can show you this information. Hoverwatch keeps track of all entries in the user address book. This default feature is useful. Thanks to it you can view browse contact details numbers and names, emails, addresses and so on stored in the address book. All this information can be viewed in the user panel. This feature is important when you need to know when, how and by whom the target phone is used. The phone tracker app developed be Hoverwatch can create screenshots periodically.
The free keylogger function of the Hoverwatch software allows registering of all the pressed keyboard buttons.
The 5 best SMS apps for small businesses in 2021
Hoverwatch enables you to register all the key pressed and typed messages on the keyboard of the monitored Mac. Track 1 Device All monitoring functions are available. Secure online payment:. If you have an issue, it is in most cases solved and fixed within just a few hours. Excellent service and fast response to emails. Will keep using this software.
❓ What is Spy Phone App??
Spying Application to Spy someone elses Android mobile.
Best Tracking App for Spying on another Android mobile?
They unknowingly keep getting into all kinds of troubles, and I've got to fix it afterwards. It's not just a SMS tracker. With Hoverwatch Phone Tracker I can check online what they've been doing to estimate performance and increase our sales.
SMS Messages or Calls Without Touching Their iPhone!
The Best Spy App to Spy on cell location.
Spy girlfriends Texts for iOS Devices?

No need for workspace intrusion. Read a few more kind words from happy customers.

We are using cookies to give you the best experience on our site. Cookies are files stored in your browser and are used by most websites to help personalise your web experience. Your email.

Listen to Others Phone Call Read their Text Messages From anywhere. Working100%

Set a password. I agree to the Terms of Service and the Privacy Policy. You must agree to Sign Up. Mobile Tracker - Android Features. Remain Completely Invisible The invisibility feature of the cell phone tracker allows it to stay completely hidden from the user, even if your children are familiar with how their devices work. Geolocation Feature The gps mobile tracker helps you determine and view location of the target device user from your account. Front Camera Photo This best phone tracker includes automatic front camera photo feature. Track up to 5 devices Installing Hoverwatch parental control gives an opportunity to monitor five devices simultaneously: some smartphones and personal computers, laptops Mac, Windows.

Phone Internet History Our free mobile tracker is ready to track all web activity that takes place in the target phone or PC: view internet history, check the address, time and date of visited sites. Todo list Hoverwatch android phone tracker has a very important feature — it can track Todo list.